School of the Arts
is a
Rochester City School District secondary
school.
Nestled in the Neighborhood of the Arts, it is
located in the
heart of Rochester's Cultural District.
If
you're interested in the arts,
talented,
desire high academic
achievement,
and
you
want to develop your skills
...
SOTA is the place for you!
Voted Rochester's Favorite City School
Poll Conducted by Rochester
Education Foundation at the 2012 Jazz Festival.
45 Prince Street, Rochester, NY 14607
Phone: (585) 242-7682
Fax: (585) 256-6580
---
SOTA
PLAYWRIGHTS
F
ESTIVAL
EVENT SCHEDULE
GUEST WRITER'S PANEL
WEDNESDAY, MARCH 25 - 7:00 PM
A panel discussion about the art and craft of playwriting.

This event is free and open to the public.
24-HOUR PLAY FESTIVAL PERFORMANCE
SATURDAY, MARCH 28 - 7:00 PM
Students participating perform original 10-minute plays created
within a 24-hour time span.
There is a
$5.00 admission fee to attend the performance.

Tickets to Saturday evening's performance are $5.00 each and
may be purchased at the School of the Arts
beginning one-hour prior to show time.
---
Our Mission is Student Success...
Academic, Artistic and Humanistic!
---
SOTA's Creepy, Spooky and Kooky Spring Musical...


The Addams Family: The Musical
---
ADVANCE SALE TICKETS FOR THE 2014-2015 SEASON
ON SALE NOW
AVAILABLE
ONLINE ONLY
CLICK BELOW...

SOTA's 2014-2015 PERFORMANCE S
EA
SO
N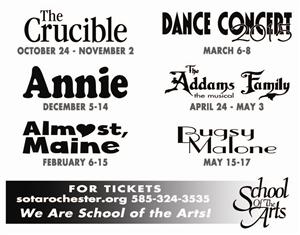 TICKET PRICING INFORMATION
$10 - Adults
$8 - Senior Citizens, Students: 5 Years-Old and Up
$5 - Toddlers:
2-4 Years-Old
Infant on Lap Free: 1-24 Months
$5 - SOTA Students: ID Required
---
Come Support the SOTA
Step Team...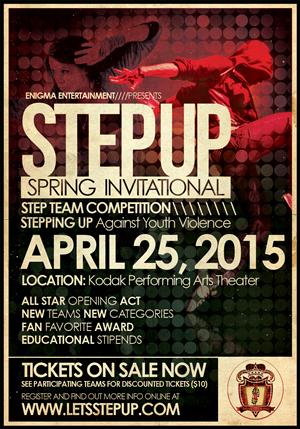 ---
Mark Your Calendars...
Superintendent Conference Day
Moved to May 1, 2015